Wine Tasting Events
The Weinhaus offers a number of different wine tasting events onsite as well as in partnership with restaurants around Asheville. Wine Dinner tastings give us the opportunity to showcase wonderful wines from all over as well as local restaurants and businesses while providing a fun and educational atmosphere to learn about wine and food! Read more about our two most popular events, Friday Night Flights and Wine Tasting Dinners below, or visit our Events page to see a full calendar listing of all our upcoming tastings and events!
---
Wine Tasting Dinners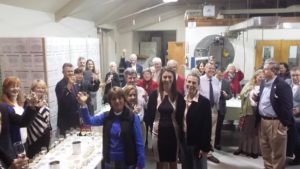 The Weinhaus is proud to partner with local restaurants in WNC in creating some really spectacular wine tasting dinners. The prices listed below are inclusive of all gratuities and taxes. Reservations are required and can be made by calling the Weinhaus. We encourage you to plan ahead as some dinners can fill up quickly. If you have a reservation and your plans change, please call us as soon as possible, as we have a "no cancellations in the last 48 hours" policy. We understand that things often come up at the last minute, but because of the group nature of our events, our partner restaurants are required to purchase the evening's menu in advance.