Events & Wedding Services
Weddings and other large events require a bit of planning when it comes to the alcohol you want to serve, and the Weinhaus is more than happy to help you have a great event, no matter the occasion. Feel free to call, email, or come by in person to discuss your individual event needs. We'll help you pick out the wine and beer that will go best with your guests tastes and your budget. Stemware loans for large events and weddings are also available.
If you or your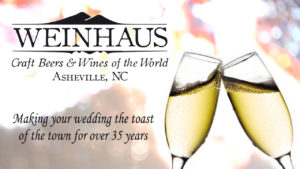 loved one has a wedding coming up, let us offer you two thoughts. First – congratulations! This is the first step in a life-long journey as a couple. Second, our condolences? Planning and executing an event like a wedding can often be stressful, expensive and time consuming. We can help on all three points. The Weinhaus has more than 40 years of working with brides and grooms to make their weddings all they can be. Reducing cost, stress and time is our specialty, but that doesn't mean serving your guests something they won't enjoy.
When it comes to providing libations for wedding, use our resources to find the right wine and beer. We consult with you or your planners to get the right amount, the right pairings and the right price. Weinhaus has worked with most of the wedding venues in the area, and has a good reputation of being professional and reliable. Delivery and equipment pick-up are an option for wine & keg service.